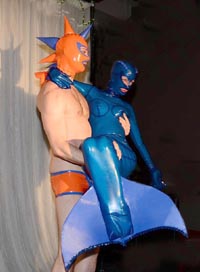 Latex Mermaid Outfit.
A Complete Mermaid outfit. The actual fins are stiffened to sustain that tail look at all times.
This outfit is handmade by us using Radical Rubber 0.4 mm sheet latex. We have been making Mermaid outfits for over 12 years. Each tail has to be made to measure.
Measurements needed are:
Waist, Hips, around both thighs with legs together, around both knees with legs together, around both ankles with ankles together,around widest part of feet with feet together. Waist to tip of pointed toe.
The price reflects different postage costs as this item is bulky and heavy the shipping costs are quite high.
This sale does not include the hood or gloves

The options now are:

UK £360.00
Europe £390.00
Rest of the World £410.00

Our price includes shipping